Welcome to Methodist Dallas Obstetrics & Gynecology Residency
Welcome and thank you for your interest in our Program! Our residents practice obstetrics/gynecology at a state of the art private facility, where they encounter rare pathology cases, receive training in robotic surgery, participate in a Centering of Pregnancy program, and receive one-on-one resident to faculty supervision.
A vast majority of our residency graduates transition into full scope OB/GYN General Practice.
We have maintained 100% Program Pass Rate for the Specialty Qualifying Exam for over 5 years & 100% Program Pass Rate for the Specialty Certifying Exam for over 3 years.
Clinical Sites for training include our Methodist Dallas, Richardson, and Charlton (south of Dallas) campuses, our Golden Cross Academic Clinic, and other local facilities.
Mission Statement:
The mission of the Obstetrics & Gynecology Residency Program at Methodist Health System (MHS) is to maintain an excellent Obstetrics & Gynecology training program with an adequate clinical volume, a collegial environment, and a community-based focus. In doing so, our mission is consistent with the mission of MHS which is to provide high quality healthcare to the women of southwest Dallas.
Program Aims:
The Obstetrics & Gynecology Residency Program at Methodist Dallas Medical Center will use its resources to prepare physicians who graduate from our program to be independent practitioners and successfully obtain certification by ABOG. Central to these goals is enabling our graduates to provide excellent health care, leadership, and a sense of service to the community in which they practice.
Find us on Instagram! @mhs_obgynresidency
A Welcome From Our Program Director
Thank you for your interest in the residency program in Obstetrics and Gynecology at Methodist Health System in Dallas, Texas. We are very proud of the program that we have here and are pleased that you are considering joining us for the next four years.
We have assembled a curriculum that acknowledges the importance of both the surgical and non-surgical components of residency training. Our rotations offer a broad exposure to general obstetrics and gynecology, and to the various subspecialties in our field. We train our residents to provide essential primary care to their patients. We pride ourselves in giving our residents protected time for a number of structured activities.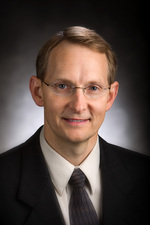 If you have any additional questions, or if you would like to arrange a tour of our facilities, please feel free to contact us. We would love to show you around!
Best regards,
Dale W. Stovall, MD, FACOG
Obstetrics and Gynecology Residency Program Director