General Surgery Residency Program in Dallas
A Welcome From Our Director
Thank you for your interest in the General Surgery Residency Program at Methodist Dallas Medical Center, one of the largest and longest-standing hospitals in Dallas, Texas. Our residency program, established in 1948, offers hands-on experience and training in all aspects of General Surgery. We are a well-established, community-based residency program that is dedicated to producing superb, technically sound, and thoughtful surgeons who are equally prepared to begin a surgical practice or enter into the fellowship of their choice.
From Level I Trauma, an active Transplant program, and one of the busiest Hepatobiliary programs in the country, our residents are exposed to and skilled in the full spectrum of General Surgery.
Our training program is a five-year program that accepts and graduates two categorical residents per year. Four first-year preliminary positions are also available for physicians pursuing a career in a surgical sub specialty or related field. All rotations are at Methodist Dallas Medical Center except for three months (one month at Children's Hospital during the PGY1 and PGY4 years and one month at the Parkland Burn Center during the PGY2 year). I take great pride in the education of our residents and their success in and out of the operating room is why we are here.
Unique Program Notes:
We are 1 of only 6 General Surgery Programs in the country who have a 5 Year Board Pass Rate of 100%
Our overall operative experience compares at the 91 percentile of programs across the country. While the number of cases are vitally important to surgical education, the type/complexity of cases are equally important.

Operative trauma volume compares at the 96%
Pancreas and liver cases are in the 97% and 80% respectively
All defined case volumes exceed 70% nationally
Sincerely,
Michael S. Truitt, MD
Program Director, General Surgery Residency
We invite you find out more about our program. If you have questions, please contact us at 214-947-2315.
Methodist General Surgery Residency Program — Dallas, Texas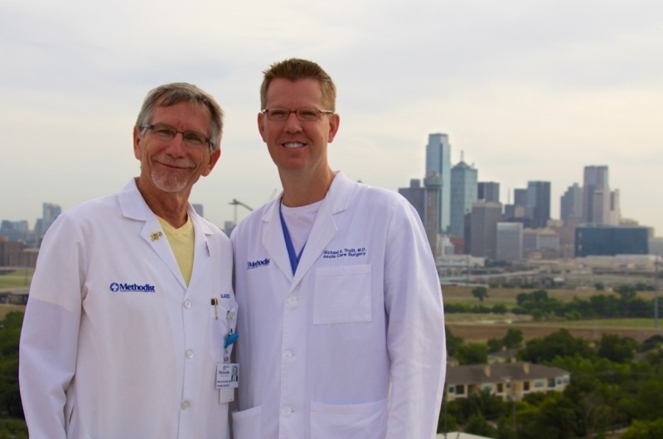 Phillip Sladek, MD (Assistant Program Director)
and Michael Truitt, MD (Program Director)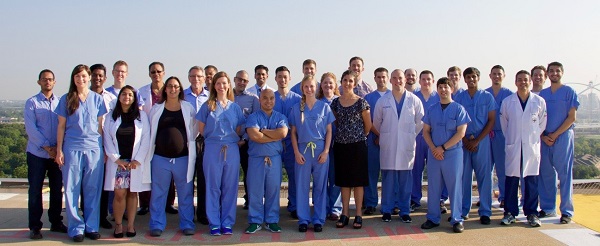 2016 – 2017 General Surgery Residents
(Last Row): Drs. Houssam Osman, Rohan Jeyarajah, Michael Truitt, Henry Jefferson, Phillip Sladek, Darryl Amos, Khalid Ahmalhoud, Anand Lodha, Jonathan Dang, Andrew Karpisek, Linda McGinty PA, Chris Pearcy, Morgan Floyd, Anthony Cahill, Derek Walker, Jay Blasingame, Tim Gutierrez, Justin Bishop

(First Row): Drs. Kara Bentley-Kumar, Vaidehi Agrawal, Vanessa Shifflette, Cassie Hartline, Jon Floresca, Emily Lowrence PA, Katrina Emmett, Greg Hambright, Paul Deramo, Pavan Attaluri, Manuel Lorenzo, and Alex Rios Tovar.