Meet Our Residents
Methodist Family Medicine Residents
Physician-graduates of the Methodist Health System Family Medicine Residency Program often cite five factors for their successful transition to private practice:
The diversity of a fast-growing patient population in the Dallas service area.
Exceptional hands-on experience in a progressive community care clinic
Broad-based inpatient care in a busy acute-care hospital without competition from specialty residency programs
(Family Medicine is the only residency program at Methodist Charlton)
Support of a committed, knowledgeable faculty and staff in a progressive, evidence-based, research-focused family medicine program
The opportunity to work among a diverse group of allopathic and osteopathic physicians, which mirrors real-world practice.
Below are the physicians currently completing their Family Medicine residency at Methodist Charlton in Dallas:
Class of 2018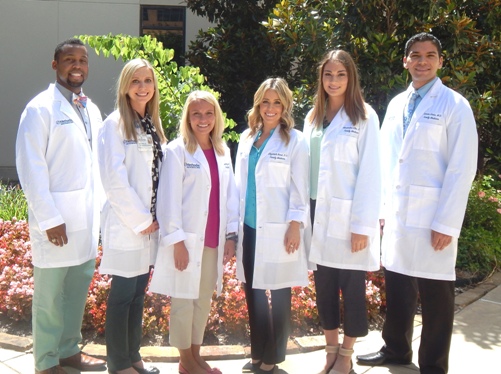 Jeremy D. Brown, DO
Texas College of Osteopathic Medicine
Hometown: I was born in Fort Worth, grew up in San Antonio, and life happened to bring me back to the DFW seven years ago. This is where I started my own family; therefore, I consider it my home now.
Hobbies: Spending time with my wife and kids, playing the bass guitar, being active (exercising, playing sports - basketball specifically), and I consider myself a foodie.
Why Methodist Charlton? I started my 3rd year of medical school at Charlton, and I immediately felt at home. Charlton is what solidified my decision to pursue a Family Medicine residency. Seeing the camaraderie between the residents, as well as the positive relationships with the faculty and staff, made me desire to be a part of this family. Everyone is truly invested in your success.
Career Goals: My interests include Sports Medicine, Osteopathic Manipulative Medicine, or a hybrid of traditional outpatient Family Medicine and Concierge Medicine. As a physician, I also think it is extremely important to give back to those less fortunate. I am really hoping to find my own special little niche.
Laura Irvin
Texas College of Osteopathic Medicine
Hometown: Cedar Hill, Texas
Hobbies: Hanging out with my son and husband, working out, running, watching movies, football!
Why Methodist Charlton? From the moment you walk through the doors you are always greeted with a smile. I love how welcoming the entire hospital is. Working in such a positive environment not only makes for a wonderful experience but also helps promote learning. All of the residents are like a big family, and I am so incredibly blessed to be a part of the program! Everyone is always willing to help one another out, it really is a team effort to survive residency!
Career Goals: For now, outpatient and surviving intern year
Brittany Love, DO
Texas College of Osteopathic Medicine
Hometown: Mansfield, Texas
Hobbies: Spending time with my hubby and family, Nights with friends, Shopping, Crafts, Golf, Swimming, Rock Climbing
Why Methodist Charlton? Most definitely the people! All of the residents are so encouraging and helpful to each other. The attendings and consultants are all very approachable and willing to teach at every opportunity. The inpatient and outpatient aspects of the program are both top notch. It's a great environment for learning and growing as a physician. Plus the DFW area is FULL of fun things to do!
Career Goals: Hopefully outpatient practice with plenty of variety and some nursing home patients mixed in!
Elizabeth Bond, DO
Arizona College of Osteopathic Medicine
Hometown: Houston, Texas
Hobbies: Golfing, piano, hiking, running, tennis, road trips, traveling
Why Methodist Charlton? First and foremost, the faculty's approachable demeanor, compassion for medicine, and open-door policy along with the amiable residents' made Methodist Charlton an automatic first rank for me. In addition, as a community-based hospital serving minority and underserved populations I knew it would challenge me and provide me with the well-rounded experience needed to practice in all healthcare environments. Other important deciding factors included the second busiest ER in Dallas, high-quality obstetric training at Methodist Dallas, and the program's dedication to international medicine.
Career Goals: I envision developing a multi-specialty "one-stop" private practice with in-house laboratory, physical therapy, diabetic educator/nutritionist, etc. My goal is to provide accessible, comprehensive healthcare to a suburban community. Furthermore, on a biannual basis I hope to provide international healthcare to areas of Central and South America.
Alexandra Elko, DO
Touro University Nevada, School of Osteopathic Medicine
Hometown: Fulshear, Texas
Hobbies: Spending time with family and friends, traveling, going to concerts, dancing, shopping, board gaming and exploring the city of Dallas (especially trying all the new restaurants)!
Why Methodist Charlton? After doing a rotation at Methodist in my fourth year of medical school, I instantly fell in love with the program and the residents. Everyone was so nice, welcoming and eager to teach/learn. I also loved that the program was a small, community-based and unopposed program because it really gives the residents the opportunity to learn all aspects of medicine and get hands-on training with all attention on them. The curriculum is also great because it allows the residents to do a lot of electives and focus on their interests/passions. Finally, the city of Dallas is super fun and has so much to offer - shopping, restaurants, nightlife, museums, parks, you name it!
Career goals: I hope to eventually become a faculty member at a residency program because I want to teach, as well as join a family medicine outpatient practice with an emphasis on pediatrics and women's health.
Samim Giotis, MD
University of Texas Medical Branch
Hometown: Fort Worth, Texas
Hobbies: Jogging, weight lifting, yoga, team sports, cooking, video games, and hanging out with my family
Why Methodist Charlton? The unopposed training environment; friendly and supportive residents, faculty, and staff; location close to my family; great benefits (meals, salary, insurance).
Career Goals: I have a dream of running my own private practice.
Matthew Dow
Texas College of Osteopathic Medicine, Fort Worth
Hometown: Weatherford, TX. I was born in Fort Worth. Grew up on a ranch in Weatherford and attended school in and around DFW.
Hobbies: Playing ice hockey, kayaking, fishing, camping, hiking, playing guitar, spending time with family, friends and my dog Koho.
Why Methodist Charlton? The family atmosphere and great people are what really drew me to the program. My first experience with Charlton was when I rotated as a medical student, and every day I could not feel more welcomed by all the faculty and staff. The environment is truly one for learning, helping patients, and helping our community. The location offers many opportunities, both medical and for leisure!
Career Goals: Practice locally in an outpatient setting with a mixture of sports medicine and family medicine.
Sarah Langston, DO
Texas College of Osteopathic Medicine
Hometown: Wichita Falls, TX
Hobbies: Hanging out with my husband and chocolate lab, playing volleyball and watching football, antique shopping, hunting, traveling to new places.
Why Methodist Charlton? I knew from rotating as a 4th year medical student that I would love being a resident at Charlton. The atmosphere here radiates positivity and cultivates a great learning environment. The faculty and employees truly invest in your medical career and care about your experience. Not to mention the current residents really make you feel like part of a family. Other attributes of this program include working with the underserved population of South Dallas and the opportunity for a sports medicine track.
Career Goals: Outpatient Medicine in an underserved city in Texas with hopefully a fellowship in Sports Medicine
Danielle Tomko, DO
Texas College of Osteopathic Medicine, Fort Worth
Hometown: Keller, TX
Hobbies: Spending time with my husband, family, and dog! I enjoy crafting, cooking new recipes, and indulging in coffee; Also who doesn't love brunch?!?!
Why Methodist Charlton? The atmosphere is simply helpful and positive, where everyone has the space to feel valued, heard, and supported. I also appreciated the size of the program, which fosters a family like attitude. The location was an important factor as well: Dallas offers lively places to live, with fun pockets of restaurants, coffee shops, and local festivities. I felt like there was an opportunity for me to really grow and make an impact here.
Career Goals: An outpatient practice where I get to see kiddos, adults, and hopefully whole family visits. I plan to practice with focuses on preventative health, nutrition, and outreach!
Class of 2019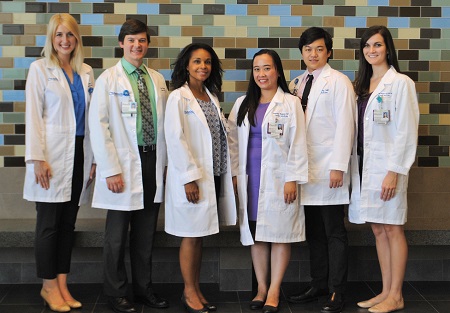 Lauren Walden, MD
University of Texas Medical Branch
Hometown: Southlake, Texas
Hobbies: Reading, good food, coffee shops, decorating, and of course, spending time with friends and family.
Why Methodist Charlton? Great people and great city. I felt instantly at home when I came for my interview day, and continue to be so impressed by how supportive and willing to help the faculty, staff, and other residents are. People truly go out of their way for one another here, and even just walking down the hallways of the hospital, you're always greeted with a smile. The program is small, unopposed, and full of not only fantastic, but approachable teachers—an obvious top choice in my book. The awesome benefits are icing on the cake.
Career goals: I'd like to work with the urban underserved in an outpatient setting, hopefully in Texas.
Jon Payne, MD
Texas Tech, Paul L. Foster School of Medicine
Hometown: Texarkana, TX
Hobbies: Board games, card games, ultimate frisbee, Dallas sports.
Why Methodist Charlton? Several factors lead me to apply to this program including that it is a community based program within a large metropolitan area. During the interview process everyone I meet was friendly and welcoming. It became very clear during discussions with current residents and attending physicians that, while you would work hard, the primary focus of the residency was to learn in a friendly environment.
Career goals: I am currently considering a sports fellowship following my residency training. Whether I end up completing a fellowship or not, I plan to practice in an outpatient setting in the DFW area.
Tonya Patton, DO
Texas College of Osteopathic Medicine
Hometown: Seattle, Washington
Hobbies: Trying new foods, traveling to any place with a beach, biking, spending time with my husband and kids.
Why Methodist Charlton? Everyone I met at Methodist Charlton was friendly, helpful, and genuinely happy to work here. From the attendings, to the other residents, to the awesome staff - everyone has been incredibly supportive. In addition, the team at Methodist Charlton always puts the patient first, and does so with the highest level of excellence. The residency curriculum and patient population provide for comprehensive and well balanced training. The program is also very family friendly and provided so many additional benefits. The location Dallas is an easy drive to many restaurants and attractions. I could go on but to sum it up, I'm very happy to be in such a great program.
Career goals: Outpatient Family Medicine combined with Integrative and Osteopathic care.
Sandy Nguy, DO
Texas College of Osteopathic Medicine
Hometown: I was born and raised in Vietnam until the age of 15. I have lived in Arlington for the past 11 years so I claim Arlington as my second home base.
Hobbies: Spending time with my family, friends, and my dog Magic, trying out new restaurants (I'm a huge foodie!), tea & coffee shops, baking, and traveling.
Why Methodist Charlton? I ranked this program as my top choice because I truly feel that the residents at Methodist Charlton receive quality education and training in such a warming and supportive environment. The program is small, community-based, and unopposed which allows for personal attention and guidance. The faculty, upper levels, and staff are so approachable and willing to teach. They also motivate us to learn, work hard, and do well. Help and support are always available when we need it. It is truly one of my biggest blessings to be a part of this incredible and close knit family.
Career goals: Undecided, but current interests include international medicine and outpatient care with an emphasis on pediatrics.
David Yang, MD
UT Health Science Center at San Antonio
Hometown: Plano, TX
Hobbies: spending time with my fiance and friends, board games, knife sharpening, hiking, strategy games
Why Methodist Charlton? I loved the size of the program. Everyone is chill and understanding. The unopposed environment is a great place to learn.
Career goals: Mostly outpatient clinic with some emphasis on sports medicine.
Megan Maguire-Marshall, MD
University of New Mexico School of Medicine in Albuquerque, NM
Hometown: Gallup, NM near the Navajo Nation.
Hobbies: My fiancé moved to Dallas two years ago and we are so excited to finally be in the same city together! My hobbies include spending time outdoors, reading, swimming, and exploring Dallas with my fiancé (sports events, restaurants, museums, parks, etc).
Why Methodist Charlton? I started researching Methodist Charlton as a 3rd year medical student and completed an audition rotation here as a 4th year to see if it would be a good fit...it was! Methodist Charlton had the best combination of inpatient and outpatient opportunities of any program I visited. What truly set them apart was the amazing group of people that welcomed me- from faculty, residents, clinic staff and even hospital employees, everyone takes pride in their role at Methodist and warmly welcomed me immediately. As a small program, there are unparalleled opportunities to learn from and with everyone involved in the program.
Career goals: My career goals are to pay back my National Health Service Corps Scholarship requirements in a health professional shortage area- likely in an outpatient setting that hopefully incorporates pediatrics and women's health!
Class of 2020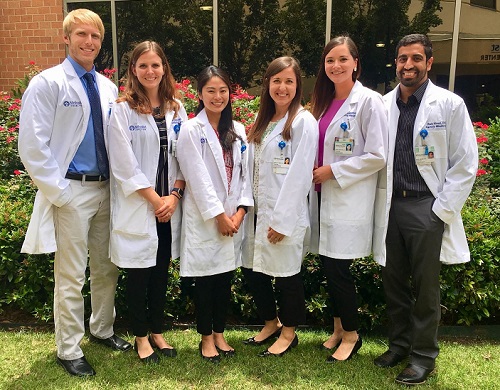 Matthew Dow, DO
Blair Conard, MD
Annie Lam, MD
Danielle Tomko, DO
Sarah Langston, DO
Raiz Hirani, DO