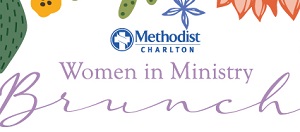 Methodist Charlton Medical Center President Fran Laukaitis, FACHE, RN, BS, cordially invites you and a guest to a special complimentary brunch honoring Women in Ministry for your dedicated service and commitment to your community
Featuring Special Guest Panelist Jennie Allen, Bible Teacher, Author, and Founder of and Visionary of IF: Gathering and Kat Armstrong, Co-Founder and Executive Director of Polished Ministries. Worship will be provided by National Recording Artist, Niya Cotton.
Saturday, August 24, 2019
10:30 a.m. – 12:30 p.m.
Methodist Charlton Medical Center Auditorium
3500 West Wheatland Road
Dallas, Texas 75237.
Complimentary Valet Parking
Main Entrance – A, Wheatland and Westmoreland Roads