Dallas Surgical Critical Care Fellowship
In-Depth Training for Critical Care Surgery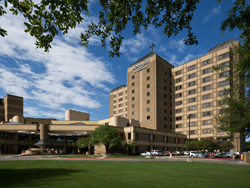 The Methodist Health System Surgical Critical Care Fellowship started with our first fellow in July 2013. The program received full accreditation from the ACGME effective July 2013. Our Fellowship is a one year program that prepares trainees in all areas of surgical critical care.
The Surgical Critical Care Lecture Series is based on the Society of Critical Care Medicine's resident ICU Course which incorporates both the basic science information and the clinical practice components in the lectures:
Airway-Management
Arrhythmias
Mechanical Ventilation
Antibiotic-resistant Infections
Sedation/Analgesia
Shock
Hemostasis
Therapeutic Hypothermia
Nutrition
Hepatic Failure
Endocrine Issues in Critically Ill Patients
Ethics/End-of-Life
Medical Errors
Burns
Sepsis
Traumatic Neurologic Injuries
Pharmacokinetics
Pregnancy Related Critical Illness
Acute Lung Injury/ARDS
Cardiac Perioperative Care
Ultrasound
Coagulopathy
Infection Prevention and Control
ICU Utilization and Stewardship
Venous Thromboembolism/Pulmonary-Embolism
Blood Product Utilization and Complications
Program faculty is comprised of 6 board certified surgical intensivists dedicated to patient care and teaching. We offer our fellows weekly conferences, monthly journal clubs, and discussion of critically ill patients in the SICU.
Surgical Critical Care Fellowship Goal
The goal of the Methodist Dallas Surgical Critical Care Fellowship program is to provide in-depth training and education relating to the treatment of critically ill patients in the SICU and to secure the highest quality care for all critically ill and injured patients. The program is designed to produce competent intensivists upon graduation from the fellowship. Applicants must have completed an approved general surgery residency or emergency medicine residency with an additional year of general surgery training.