A New Hip and a New Milestone

Tuesday, August 9, 2016 was just like any other for Phil Berry, MD. The orthopedic surgeon drove to Methodist Dallas Medical Center to perform several surgeries. The second of the day also happened to be his 1,000th hip replacement using the anterior approach. For almost a decade, Dr. Berry has been performing hip replacements in this fashion.
"It's still a hip replacement, it's just done in a different direction, and the different direction lets you go in and spread the muscle rather than cut it off the bone and then have to repair that and hope that it heals," says Dr. Berry.
He first learned about the procedure from a DVD that one of the OR nurses brought to him in 2007. He sought out a specialist who was doing the procedure. Dr. Berry says it has revolutionized the patient recovery, shortening it from three months to two weeks. Now his patients are up and walking the same day and going home the following day.
Sulphur Springs, TX resident Carolyn Kelley hadn't walked in more than a month, but hours after her surgery and with the help of a therapist, she walked up and down the halls of Schenkel Tower.
"I was in a lot of pain," Carolyn recalls. "I was apprehensive about a hip replacement, but my life totally stopped for four weeks because I was in a wheelchair. "
Only four days before her surgery did Carolyn find out she was Dr. Berry's 1,000th anterior hip replacement patient. She was grateful for his expertise and the time he spent with her and her family answering all of their questions before and after the procedure.
"I am so glad I was led to Dr. Berry and to this hospital," she adds.
She credits the Methodist Joint Academy for preparing her for the procedure and recovery.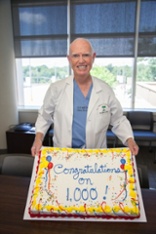 Dr. Berry is already looking ahead to his next thousand patients, but he certainly already has an impressive medical legacy. He came to Methodist Dallas in 1971, helped found the air ambulance CareFlite, and saw the hospital become the second trauma center in Dallas County. In 1985, his orthopedic practice halted when he became a patient after contracting hepatitis B in the operating room and nearly died from it.
"30 years ago, I had to have a liver transplant and that changed my perspective about what I wanted to become as a doctor," Dr. Berry says. "I think the first part of being a good doctor is really caring for the patient. I learned that by being a patient. To know when I see somebody in the office for the first time who can't walk because they're hurting so badly, and then to know that in 24 hours their life will be changed. How much fun can that be?! It's just a thrill to be able to do that for people." Methodist offers comprehensive orthopedic care at all four major campuses. Learn more here.