Methodist's next hospital reaches new heights with 'topping out'
Top beam placed at Methodist Celina Medical Center on way to 2025 opening
CELINA, Texas — The steel silhouette of this Collin County boomtown's first full-service hospital took shape Friday when the highest beam of Methodist Celina Medical Center was hoisted into place.
With a drone camera capturing every moment, leaders from the city and local business community joined Methodist Health System executives to celebrate the "topping out," a key milestone for the 200,000-square-foot hospital that will open its doors in 2025.
"It will be our pleasure to serve this quickly growing community with a broad range of healthcare services," said James C. Scoggin, Jr., Chief Executive Officer of Methodist Health System. "When we open in 2025, we will offer cardiovascular and cancer care, as well as women's services, orthopedics, and robotic surgery."
Construction on the $237 million project has endured the extremes of North Texas weather, from a winter storm that disrupted the January groundbreaking to extreme heat that forced crews to work odd hours this summer.
"The amount of work that's been done over the last six months is remarkable," said Pam Stoyanoff, President and Chief Operating Officer of Methodist. "We are ahead of schedule, thanks to construction crews who worked overnight all summer pouring concrete. Talk about hard work and dedication!"
The ceremony may have been Friday afternoon, but the festivities had the distinctive flair of Friday Night Lights. A pre-recorded pep rally featuring the Celina High School Bobcats welcomed the newest member of the home team to town.
"I know firsthand how important high school football is to a community," said Scoggin, a former Texas A&M Aggie. "And Methodist is truly at its best when we are engaged with the communities we serve."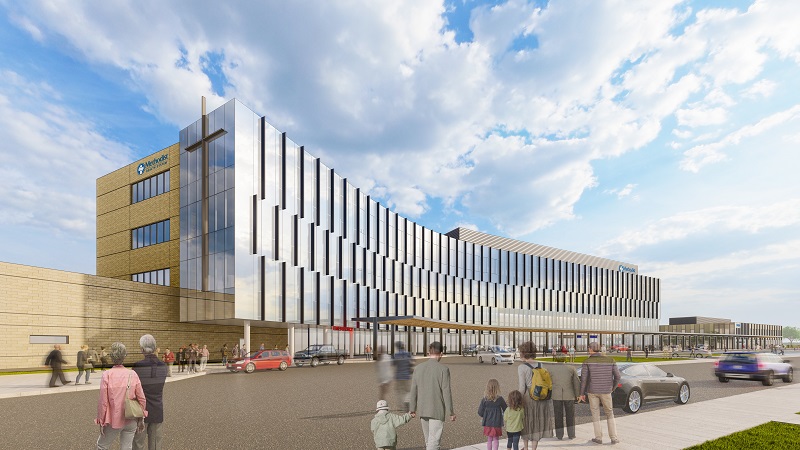 Joining the celebration Friday was Celina Mayor Ryan Tubbs, who noted that the hospital will create more than 200 jobs in his growing community.
"This incredible structure has already transformed Celina's landscape," Tubbs said. "In no time at all, your professional care will transform the lives of countless families who will come through this beautiful hospital in Celina, and it will do so for generations to come."

Methodist Celina, by the numbers:
30 medical-surgical beds
10 post-partum beds
Eight intensive care unit beds
12 emergency department beds,
Three operating rooms, including a daVinci surgical robot, and shell space for an additional operating room
A cardiac catheterization lab and two procedure rooms
Four labor and delivery rooms, two C-section rooms, and 10 post-partum suites.