What to Expect in the ER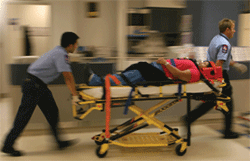 Trips to the emergency room are seldom planned. But it's good to know what to expect if you ever do need to go. Some things to keep in mind:
What to expect during your visit
When you arrive, typically a nurse will check your condition and determine if you need to be seen by a doctor immediately.
Try to be patient if you need to wait. Be assured, you'll be helped as soon as possible. Emergency departments use a system called triage, which means people are seen based on the seriousness of their conditions.
Remember — this is a stressful situation, but you are surrounded by professionals trained to help. Being calm will help you communicate better with doctors, nurses, and other medical staff.
What You Should Communicate to Your Doctors
Describe how you feel, providing as much detail as possible.
Mention any medications you use and any allergies you might have. It's a good idea to keep this information written down.
ER Visitor Information
Cellular phones interfere with medical equipment. They may not be used in the emergency treatment area.
No more than two visitors per person are allowed in the emergency treatment area.
Children may not visit a person in the emergency treatment area.
No food is allowed in the emergency room treatment area.