Methodist Celina Medical Center
Bringing trusted care to Celina and the surrounding communities - Opening in 2025
For decades, Methodist Health System has been a trusted partner in caring for our neighbors in North Texas. Now, we're bringing that trusted care to you. Our four-story Methodist Celina Medical Center will be the city's first full-service hospital and is designed with the Celina's proud history in mind.
Opening in 2025, Methodist Celina will give your family convenient access to the welcoming, well-equipped healthcare you deserve nearby. We're putting down roots in this community and building a hospital that's ready to care for your growing health needs.
Methodist Celina by the numbers:
47-acre campus
200,000-square-foot medical center
40,000-square-foot medical office building with spaces from 2,642 to 7,288 square feet
$237 million project
48 beds, with space for an additional 30
3 operating rooms, with space for 1 more
30 medical/surgical beds
10 postpartum beds and a 12-bed nursery
8 ICU beds
16 emergency department beds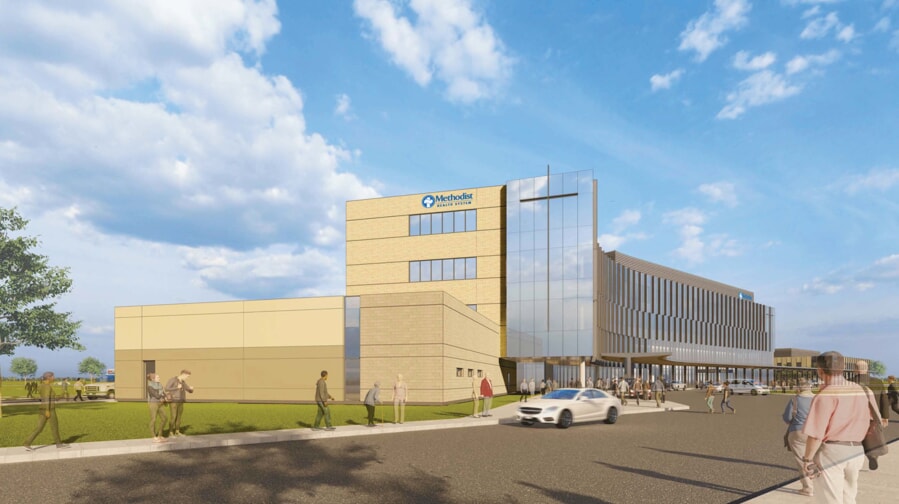 ---
Comprehensive, specialized care for you
Your new hospital will offer a complete range of medical and surgical services, from primary care to advanced robotic surgery. You'll have access to specialized services, dedicated providers, and innovative procedures in your community, all supported by the expertise of Methodist Health System.
When our doors open, you'll find services including:
Cardiovascular care
Emergency and trauma care
Women's and children's services
Neuro/stroke care
Cancer care
Orthopedics and spine care
GI and colorectal care
Family medicine
Surgical services, including robotics
Imaging and radiology
---
Technologically advanced care in your neighborhood
Methodist Celina will provide you with modern care in a comforting environment. We're investing in features that incorporate technology with thoughtful design to offer healthcare in the way you need and want.
Access to robotic technology
As part of our three operating suites, our center will feature one Da Vinci XI robot to give you access to robotic surgery options for some of the most common surgical procedures. Often, robotic-assisted surgery offers more precision and helps reduce the recovery time after surgery.
Dedicated women's services
We're committed to growing along with the families of Celina and the surrounding communities. Our women's and children's area features four labor and delivery rooms, two C-section rooms, 10 postpartum rooms, and a 12-bed nursery, with space for a NICU expansion.
Specialized procedure rooms
Our cardiac cath lab will provide the technology needed to diagnose and treat heart disease without having to leave your community. Our two procedure rooms also offer advanced procedures, such as GI care and testing.
Emergency care designed for you
When the unexpected happens, you want quality emergency care close by. Our new emergency department is designed with 16 fully equipped emergency care rooms, as well as four fast-track bays to provide for urgent but non-emergency needs as efficiently as possible.
---
Building our community's future
At Methodist Celina, we aren't just building a hospital. We're becoming a part of your community. Our team is committed to engaging with other local organizations, providing services designed specifically for the unique makeup of this community, and improving access to care for all.
To care for our community, we offer:
Community events, health screenings, and health and wellness education
Collaborations with local cities and organizations
Programs and services developed to meet community health needs
Access to vital emergency services, with no one denied emergency care