Methodist's "Shine Online" Wins Healthcare Blog of the Year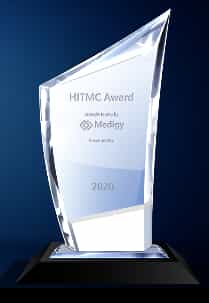 Methodist Health System's "Shine Online" website was named Blog of the Year at the 2020 Medigy HITMC Awards.
This award is given to the healthcare organization with the best blog site based on quality of content, frequency of updates, and overall presentation.
Every year, the Healthcare and IT Marketing Community (HITMC) honors the individuals and organizations who distinguished themselves over the past year. Nominations for the are reviewed by a selection committee made up of industry veterans and only three are chosen as Honorees in each category. A panel of judges then evaluates the Honorees and a winner is chosen.
"Shine Online is a deserving winner of a 2020 Medigy HITMC Award," says John Lynn, Chief Editor and Founder at Healthcare Scene, the company behind HITMC. "Together, the 2020 Award Winners are a shining example of the best in healthcare marketing. It is truly inspiring to see what happens when bright, passionate people work together."
"Shine Online is a team effort and this is a big win for our team," says Ryan Owens, Director of Public Relations, Methodist Health System. "Producing all of this timely content takes a lot of work from the PR department but also from the physicians and healthcare leaders we use as sources."
For a full list of Winners and Honorees for the 2020 Medigy HITMC Awards, please visit the official awards page.
About Methodist Health System
Guided by the founding principles of life, learning, and compassion, Dallas-based Methodist Health System (Methodist) provides quality, integrated healthcare to improve and save the lives of individuals and families throughout North Texas. Ten hospitals proudly carry the Methodist Health System brand, as owners or through affiliation. More than two dozen Methodist Family Health Centers and Medical Groups are among the facilities served by the nonprofit Methodist Health System, which is affiliated by covenant with the North Texas Conference of the United Methodist Church. Additional information is available at MethodistHealthSystem.org.