David B. Miller to receive the Methodist Health System Folsom Leadership award
DALLAS, Texas, May 30, 2017 – Methodist Health System Foundation has named business and community leader David B. Miller as the 2017 Robert S. Folsom Leadership Award recipient. The prestigious award will be presented at a dinner on October 25 from 6:30 to 9 p.m. at the Hilton Anatole Hotel's Grand Ballroom. Established in 2005, the award recognizes individuals whose demonstrated commitment and excellence in community leadership emulate the achievements of the late Dallas Mayor Robert S. Folsom.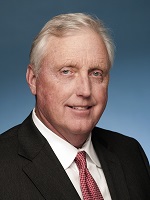 Methodist Health System Foundation President James M. Johnston said, "David Miller clearly exemplifies Bob Folsom's legacy as a revered community leader, serving Dallas with integrity, humility and respect. Like Mr. Folsom, David's dedication and involvement with SMU, his dynamic leadership as a successful entrepreneur/business leader, as well as his care, concern and generosity toward others who are less fortunate, have made a lasting impact on Dallas and beyond. This year is particularly poignant because of the passing of Mr. Folsom in January. We hope to make this a special celebration as we pay tribute to Mr. Folsom as well."
David Miller said, "I am humbled and honored to receive this significant award as Bob Folsom was a role model for many of us, and he was a true servant leader."
In 2016, Methodist Health System provided more than $149 million in unreimbursed charity care, a growing portion of total care provided in North Texas. The Folsom dinner, recognized as one of Dallas's largest fundraising events, has raised more than $15 million net to benefit Methodist Health System's programs and services.
Co-chairs for the event include Nancy Ann and Ray Hunt, Lottye and Bobby B. Lyle, The Honorable Jeanne L. Phillips and Gail and Gerald Turner.
Past Folsom Leadership Award recipients include a who's who in Dallas: Robert S. Folsom (2005), Nancy Ann Hunt (2006), Troy Aikman (2007), Laura Bush (2008), the late Norman Brinker (2009), Pat and Emmitt Smith (2010), Trevor Rees-Jones (2011), Mike Boone (2012), and Rev. Mark Craig (2013), Bobby B. Lyle (2014), Jack Lowe, Jr. (2015), and R. Gerald Turner, Ph.D. (2016).
About David B. Miller
David Miller is co-founder and managing partner of EnCap Investments, L.P., the leading provider of private equity to the oil and gas industry. EnCap has raised 20 funds and managed more than $32 billion of institutional capital since its inception in 1988, and today ranks as the 8th largest private equity firm in the world.
Prior to the establishment of EnCap, Miller served as Co-Chief Executive Officer of MAZE Exploration Inc., a Denver-based oil and gas company he co-founded in 1981. Miller began his professional career in 1973 with Republic National Bank of Dallas, ultimately serving as Vice President and Manager of the bank's wholly-owned subsidiary, Republic Energy Finance Corporation.
Miller is a graduate of Southern Methodist University, having received Bachelor's and Master's degrees in Business Administration in 1972 and 1973, respectively. He has served on the Board of Trustees at Southern Methodist University since 2008 and also serves as Chairman of the Executive Board of the Edwin L. Cox School of Business. He is a recipient of Distinguished Alumnus Awards from both Southern Methodist University and the Cox School. In 2009, Miller was honored with the Silver Anniversary Mustang Award by the SMU Lettermen's Association.
In 2004, Miller was appointed to the National Petroleum Council, an advisory body to the Secretary of Energy, and he is a member of the Board of Advisors of the Maguire Energy Institute. Miller was recognized by the Maguire Energy Institute in 2014 with its L. Frank Pitts Energy Leadership Award. He was inducted into the Rocky Mountain Oil & Gas Hall of Fame and the Dallas Business Hall of Fame in 2014 and 2015, respectively.
Miller and the Miller Family Foundation support numerous charities. He is the immediate past Chairman of the Board of Goodwill Industries of Dallas, and also serves on the Board of Directors of the DFW Salvation Army, Methodist Health System Foundation, the UT Southwestern Medical Foundation and the Baylor Healthcare Foundation. He is former Board Chair and an Honorary Lifetime Director of the Senior Source of Greater Dallas. The Senior Source recognized Miller and his wife, Carolyn, with the Spirit of Generations Award in 2011. He was honored with the Volunteer Center's Lifetime Achievement Award in 2013.
About Methodist Health System
Guided by the founding principles of life, learning and compassion, Dallas-based Methodist Health System (Methodist) provides quality, integrated health care to improve and save the lives of individuals and families throughout North Texas. Seven hospitals and 25 Methodist Family Health Centers and Medical Groups are among the facilities served by the nonprofit Methodist Health System, which is affiliated by covenant with the North Texas Conference of the United Methodist Church. Recognized by Modern Healthcare as one of the fastest-growing health systems in America, Methodist continues to add facilities and services to enhance patient care along the entire continuum. Additional information is available at MethodistHealthSystem.org. Connect through Facebook, YouTube, and Twitter.

Those interested in supporting the Robert S. Folsom Award, please contact Methodist Health System Foundation Vice President of Development Joy Duncan at 214.947.4602 or joyduncan@mhd.com. More information is available at http://www.methodisthealthsystem.org/.
Contacts:
Juliette Coulter
juliette@coultergroup.com
214.394.5532
Stacy Covitz
StacyCovitz@mhd.com
913.706.3823