Meagan Hooker – Appendicitis Success Story
Her aunt's suggestion to turn to Methodist Mansfield caught Meagan Hooker's appendicitis just in time
This active high school student was able to return to band, cheerleading, and the Texas Brigades wildlife program
Meagan Hooker enjoys the outdoors and
is an ambassador for the Texas Brigades.
She's only 15 and is already an ambassador for the conservation and preservation of wildlife as well as an honor student at Italy High School. However, not long ago, Meagan Hooker experienced sudden pain in the middle of her abdomen, fever, nausea, and vomiting.
At first the pain would come and go, but then it became persistent and sharp, she says. Her mom took her to a family physician. After performing a sonogram and CT scan, her physician didn't find anything unusual. When Meagan's pain became more severe, her aunt suggested she seek a second opinion from Anna Toker, MD, an independently practicing surgeon on the medical staff at Methodist Mansfield Medical Center.
Dr. Toker diagnosed her with acute appendicitis and immediately made plans for an emergency appendectomy.
"When I first found out about my diagnosis, I was relieved," Meagan says. "Dr. Toker was so compassionate, confident, and reassuring, and that meant a lot to me and my family."
Appendectomy is the surgical removal of the appendix when an infection has made it inflamed and swollen. This infection, called appendicitis, is considered an emergency because it can be life-threatening if untreated and occasionally, an inflamed appendix can burst after a day of symptoms. So it's very important to have it removed as soon as possible.
Considering the heart, too
Fortunately, an appendectomy is a common procedure and complications are rare. However, Meagan has cardiomyopathy, an extremely rare condition that causes the heart's primary pumping chamber, the left ventricle, to become enlarged and pump blood to the body less vigorously than a normal heart would. The disease doesn't cause symptoms in all patients, but it can be dangerous. Exertion can also prompt a life-threatening irregular heartbeat.
Because Meagan's condition can be associated with a higher risk of infection, Dr. Toker opted for a single-incision laparoscopic surgery (SILS), which offers the patient benefits of smaller incisions, a shorter hospital stay, and less pain during recovery. Dr. Toker is one of only a few physicians in North Texas skilled to perform the SILS appendectomy procedure, and Methodist Mansfield is an accredited chest pain center, so if a complication had arisen, Meagan would have been in great hands.
The SILS appendectomy procedure uses a port and a tiny video camera called a laparoscope to help the surgeon see inside the body. The thin tube of the laparoscope is inserted through a small incision and guided to the appendix, acting as the surgeon's eyes. Other medical instruments are guided to the area, and the entire operation is done while the surgeon looks at a television monitor. Compared to conventional surgery, SILS offers the surgeon enhanced visualization and more precision in tissue management and analysis.
"Like many stricken with an unexpected medical condition, I went through an entire wave of emotions, from anger to fear," Meagan says. "But if it had to happen, I know I was in the best place for it to be treated. The nurses and staff at this facility have been wonderful. I've healed very fast and my scar is nearly invisible."
Free of pain and free to serve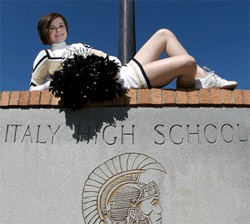 Now preparing for her sophomore year, Meagan, an honor student, is glad to be healthy again.
"I love hunting and fishing with my family, practicing cheers for cheerleading, and playing the flute," she says.
As an ambassador for the Texas Brigades Buckskin Brigade camp in Carrizo Springs, a wildlife-focused leadership development program for high school youths, Meagan is one of 30 students chosen to learn about wildlife, natural resources, land preservation, and conservation in Texas.
"I went to camp and learned about animal anatomy, botany, nutrition, and habitat management," she says. "Now I want to teach as many kids as I can and spread the word to encourage preservation of what we have so it will be there for our future."
From the fall 2011 edition of Shine magazine