Meet Our Team
Together with an AAHIVM-certified clinical pharmacy specialist, an RN clinical coordinator, a certified medical assistant, and a registration representative fluent in both Spanish and English, we'll carefully listen to all your concerns and needs, and partner with you in creating a multifaceted plan that emphasizes wellness and your quality of life.
Paa Yanful, PharmD, BCPS, AAHIVP
Paa Kwesi Yanful, Pharm D, is a dedicated Clinical Pharmacy Specialist who has been in practice since 2016. Dr. Yanful graduated from the University of New England College of Pharmacy where he earned the privilege of becoming a member of the Rho Chi honor society. Following pharmacy school, Dr. Yanful completed his post graduate work at Xavier University of Louisiana College of Pharmacy, and went on to specialize in HIV Pharmacotherapy at the University of Illinois at Chicago College of Pharmacy. He is a Board Certified Pharmacotherapy Specialist and also certified in HIV pharmacotherapy by the American Academy of HIV Medicine. Dr. Yanful's unique background has equipped him with the ability to connect with patients from all walks of life. Fluent in both English and Twi, Dr. Yanful grew up in Ghana, moved to New York at 17 and is now residing in Texas. When he is not working, Dr. Yanful enjoys photography, soccer and web design.
Education:
Bachelor of Arts in Chemistry – Binghamton University—State University of New York
Doctor of Pharmacy - University of New England College of Pharmacy
PGY1 pharmacy practice residency - Xavier University of Louisiana College of Pharmacy
PGY2 HIV Pharmacotherapy Residency - University of Illinois at Chicago College of Pharmacy
Pamela J Green, RN, BSN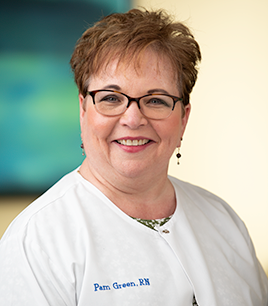 Pamela J Green, RN, BSN, is a strong advocate for improving the quality of life for those infected with HIV and living with AIDS. She learned as a new nurse the stigma of HIV and its effect on a young man named Ryan White as he struggled with the disease and his desire to go to school as a normal teenager in rural Indiana. His illness frequently brought him to Indiana University Hospital where Pam was employed as a student nurse extern and experienced providing HIV care first hand. Since then, she has been judge appointed to serve on the Ryan White Planning council to assist communities with HIV awareness and prevention. We are fortunate that Pam will be continuing this work in Dallas County. Pam is well trained clinically having been employed previously as a travel nurse and a hospital-based practitioner of the ICU, PACU, ER, and ICU management. She is a 1993 Graduate of Indiana University School of Nursing graduating Sigma Theta Tau. Notable is her 2009 Nurse Week Excellence Aware in Clinical Care, Finalist Category and her 2009 Excellence in Nursing – Bronze Medalist from Good Samaritan Foundation. Pam has spoken at SAEM addressing the need for routine HIV screening in acute care settings and is published in the findings of that work. When she is not working, Pam enjoys riding her motorcycle throughout the Texas countryside.
Education:
Bachelor of Science in Nursing – Indiana University School of Nursing 1993 – Sigma Theta Tau
Elizabeth Cardenas
Registration Representative, Elizabeth Cardenas, is the kind and competent face that initially greets new patients at the Methodist Dallas Medical Center Partners Clinic. With more than 12 years of experience working within Methodist Health System, it is Ms. Cardenas's passion and conviction to ensure patients find an answers to each and every one of their questions. Fluent in both English and Spanish, Ms. Cardenas keeps the office running smoothly by registering new patients, scheduling, filing insurance, billing, and following up with patients post treatment. Ms. Cardenas is a Dallas native who enjoys making arts and crafts, spending time with her large family, and is an avid Philadelphia Eagles football fan.
Janice Lewis, CMA
Janice Lewis is a certified medical assistant with more than 20 years of experience working in the healthcare industry. Ms. Lewis went to Ross Medical Tech School in West Palm Beach Florida. Ms. Lewis works with patients throughout their visit executing both administrative and medical duties, which includes greeting patients, updating and scanning patient medical records, handling correspondence, scheduling appointments, arranging for hospital admission, and triage phone calls. Her clinical interests include treatment for HIV, phlebotomy, EKG, injections, Vaccines, and overall patient care. When she is not working, Ms. Lewis enjoys writing short stories, reading, cooking, and spending time with her daughter.
Education
Certification- Ross Medical Tech School